Originally invented in the 1940's, rotary speaker cabinets imaginatively  employ the Doppler effect by firing a woofer into a rotating drum and a tweeter into a rotating horn. The results are much more harmonic than typical tremolo or vibrato effects, producing sounds ranging from rich and shimmering to gentle, dreamy and swirling. These novel speakers were quickly adopted by jazz organists, cemented by blues and rock legends such as Buddy Guy, Jimi Hendrix, Robin Trower, Pink Floyd and The Beatles, and later the effect simulated by guitar pedal manufacturers.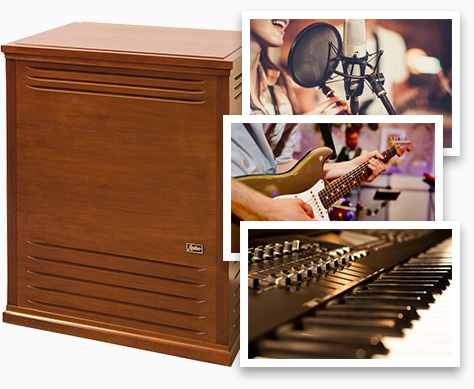 Taking its name and inspiration from these classic spinning speakers, Rotary represents the modern evolution of this classic design, delivering both a faithful reproduction of the original cabinets and providing a highly versatile and customizable musical tool for today's artists and audio professionals. A simple and intuitive interface provides for a workflow that's both fast and inspiring, while precise stereo mic placement and deep back panel controls allow for a huge range of tonal possibilities. Rotary can add another dimension to any sounds or instruments (even vocals), enhance harmonics and create a sensation of movement and depth.
IN-DEPTH
Interactive Mic Placement
Rotary allows for near-effortless placement and fine-tuning of microphone position via simple click-drag and macro controls. Asymmetry, automation, stereo field tweaks and easy A/B auditioning are all possible, allowing you to easily dial in the tone you're after without the hassle and space requirements of a physical speaker and mics.
Independent Horn and Drum Controls
Independent and deep control over the horn and drum sections of the rotary cabinet provide an incredible sonic palette. Easily set their level on the front panel or jump over to the back panel to reconfigure Rotary's inner-mechanism for subtle to extreme results.
Mix and Sculpt Your Sound
Easily mix and shape your sound with discrete filters for the horn and drum. Adjust horn radius, cabinet size and reflections until it blends in or stands out of your mix just the way you want. Change the horns directivity for an in-your-face rock sound or leave the default engaged for lush chorusing.
Acceleration and Deceleration
Adjust the acceleration and deceleration times of the horn and drum independently, a challenging feat on the real speakers, allowing the creation of hybrid modes capable of producing far-out Doppler shifts that would otherwise be unimaginable.
A Future Classic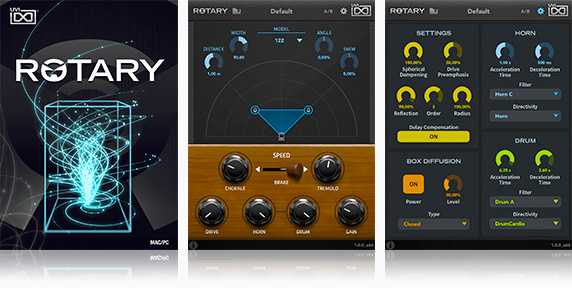 Rotary brings a vintage effect into the modern age with intuitive and deep controls, a fast workflow and a sophisticated engine. Explore it on a multitude of uses from keyboard and guitar setups to contemporary sounds, vocals and more, and see why Rotary is destined to become a future classic.
Features
Custom microphone placement (hemispherical)
Intuitive macro controls (width, distance, skew) and independent click-drag microphone placement
3D real-time ray-traced early reflections, simulating up to third order
Shape sounds naturally (metrics based on original horn / drum directivity measurements)
Precise angular Doppler effect
Realistic sound diffusion for open and closed box configurations
Precise tone reproduction (measured horn / drum impulse responses)
Amplifier Drive: faithful reproduction of even / odd harmonics
Amplifier Pre-Emphasis control (compensates horn frequency response)
SPECS
LICENSING
3 activations per license on any combination of machines or iLok dongles
SYSTEM REQUIREMENTS
300 MB of disk space (Mac Installer: 157 MB ; Windows32 Installer: 253 MB ; Windows64 Installer: 203 MB)
4 GB RAM
Supported Operating Systems:
– Mac OS X 10.9 Mavericks to macOS 10.15 Catalina (32 and 64-bit)
– Windows 8 to Windows 10 (32 and 64-bit)
iLok account (free, dongle not required)
Internet connection for the license activation
COMPATIBILITY
Supported Formats: Audio Unit, AAX, VST