CREATIVE HYBRID INSTRUMENT
16 oscillators, 90+ effects, modulation sources, MIDI processors with scripting in an expansive semi-modular sound design environment
Advanced sample engine with timestretch, pitch-shift, slicing and granular
Pure synthesis with subtractive, PM, FM, wavetable, additive and physical modeling
POWERFUL HYBRID SYNTHESIZER FOR INFINITE POSSIBILITIES
Mix and modulate samples, synthesis modules, fx and more in todays most extensive and streamlined hybrid instrument

Falcon is an advanced and truly unlimited hybrid instrument, bringing together an extensive collection of cutting-edge oscillators, effects, modulators and event processors and delivering them in a workflow-adaptive and highly-scriptable environment. Falcon allows you to create and manipulate sound with unparalleled precision and finesse, from basic sample slicing and synth design to extravagantly modulated multitimbral hybrids.
WIDE RANGE OF SOUND SOURCES
Mix and match sound sources using sampler-like key zones with sample-based or pure synthesis oscillators:
— Each sample can be individually manipulated using timestretch and pitch-shift algorithms as well as granular synthesis from IRCAM. Loops can be sliced, chopped-up and mapped to the keyboard using the Slice oscillator.
— 9 pure synthesis oscillators including virtual analog, wavetable, phase distortion, FM and additive type, and even physical modeling with the pluck oscillator

UNIQUE AND POWERFUL EFFECTS
Over 90 high-quality effects are at your disposal, categorized for easy navigation: Delays, Reverbs, Modulation, Filters, Equalizers, Amps and Stereo, Drive and Distortions, Dynamics, Analysis and more. Add effects at the patch level, as sends or even per note. Including Sparkverb, Thorus, an optimized convolution reverb and many, many more.
MODULATION
Rich sound means movement and Falcon can create it whenever and however you need it. AHD, Analog ADSR, Attack Decay, DAHDSR, Drunk, classic and parametric LFO, Multi Envelope and Step Envelope modulation generators all come standard and can be used to effect nearly anything in the Falcon environment. Create variation over time or on demand, drive your oscillators, effects or even other modulators, then add the most important parameters to the macro panel for clear and intuitive performance control.
EVENTS AND SCRIPTING
Falcon's event processors provide control and analysis of the pre-synthesis phase of your sound, from manipulating incoming MIDI data to creating it algorithmically. Utilize factory processors such as an advanced Arpeggiator, Drum, bassline and euclidean sequencers, Micro Tuner, Chorder, Harmonizer, Strum simulator, MIDI Player, Unison and Shepard effects, or code your own from scratch with the powerful Lua scripting language.
WORKFLOW
Extensive, adaptable, Falcon's resizable HiDPI interface helps you easily focus on the task at hand with a clear and efficient workflow. From the Tree view where you can jump in and edit any aspect of your patch, to built-in browsers for files, favorites and modules, Falcon is built for speed. New features like User Templates and the Modulation Quick View are just a couple of the ways we're continuing to make Falcon faster and more powerful to use.

Falcon comes with an expansive factory library of 1200+ presets and 500+ wavetables created by some of the most respected sound designers in the world – tap them for instant gratification or to inspire your own sound design.
Buy Falcon, get a $100|100€ VOUCHER
TECH SPECS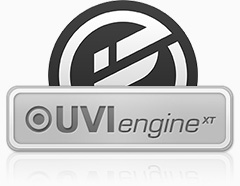 At Falcon's heart is the UVI Engine XT™, a robust, reliable and CPU-efficient DSP powerhouse that's been constantly refined over the last 10 years. Leaned on by some of the largest names in pro audio, Engine XT provides a host of features that make Falcon one of the most flexible and feature-rich instruments on the market. What's happening under the hood has a significant effect on your experience.
INSTALLER SIZES
Windows installer: 618MB or Mac DMG: 637MB
Factory Library: 1.01GB (compressed ufs size)
COMPATIBILITY
Stand-alone, VST, AU, AAX, Windows (8+), Mac (OS X 10.9+), we've got you covered. Falcon's core has been optimized for efficient performance on all popular platforms and DAWs.