OVERVIEW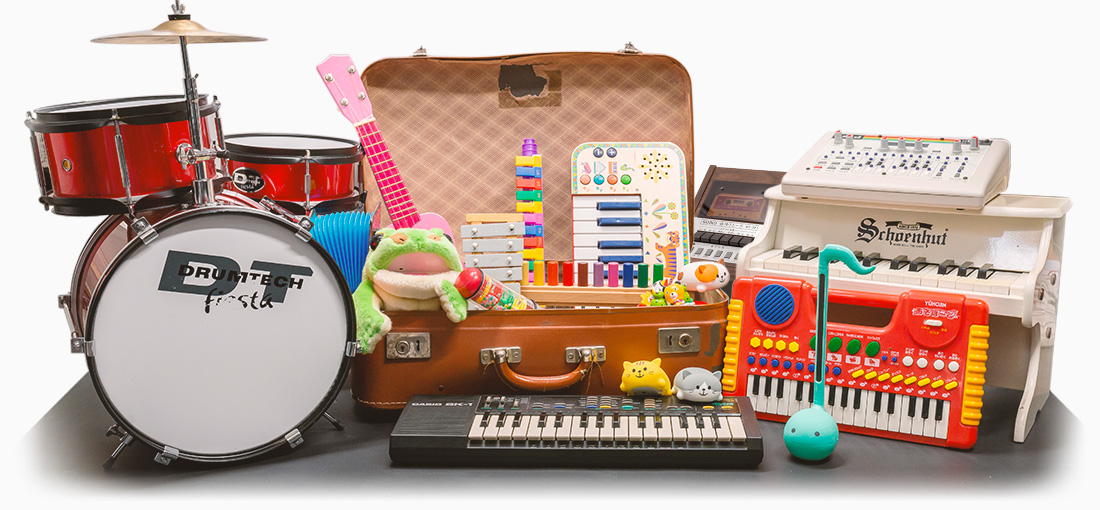 Our most eclectic and uniquely inspiring instruments collection, Toy Suite is packed to the brim with the sounds of fanciful wonder and nostalgia. Over 370 toy instruments await, including old and new ones, for big kids and little ones, acoustic toys, electric toys, and even the sounds of video games from the '70s and '80s!
Explore an enormous range of timbres from toys built all over the world; tiny pianos, guitars, organs, drums, percussions, whistles, metallophones, bells, shakers, moo-cans, music boxes, drum machines, melodicas, accordions, harmonicas, trumpets, samplers, style-o-phones, talking toys and more! Whether you're a player, producer or sound designer, you're sure to find unique and charactered sounds that inspire and add depth to your productions. It's a truly massive collection!
From the tender tones of little xylophones to the crackly lo-fi melodies of mini-samplers you'll experience every detail in stunning clarity. We utilized the same professional studio, class-A microphones, outboard processors, multi-sampling techniques and expert editing to produce the sounds of Toy Suite that we've used on countless classical instruments. You'll find outstanding sound quality, performance and reliability across the entire suite.
Acoustic Toys
Toy Pianos and Keys
The most complete selection of toy pianos in the world, including Michelsonne pianos, rare wood pianos and more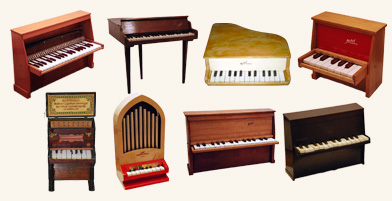 Xylophone and Metal
A great selection of xylophones and metallophones, sanzas and clavi-harps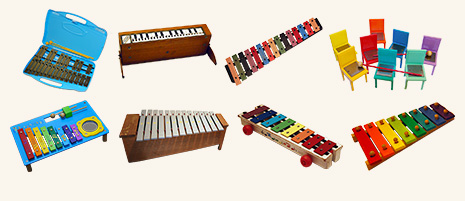 Children's Bells
Simple bells, key triggered bells and chimes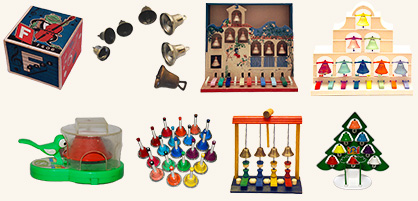 Toy Guitars
Multi-sampled guitars and ukuleles, chords and loops, all expertly played in various tempos and every key

Music Boxes
Distinct classics and newer models with clean tones. Classic models come with presets that can randomly play each note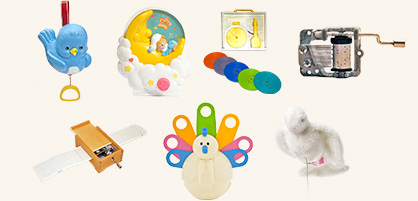 Baby Drums
A child's school set and a very cheap cardboard set, both recorded with a session drummer in a professional studio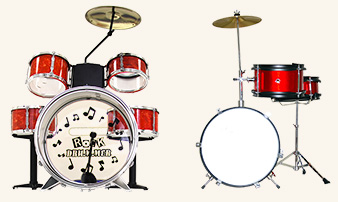 Baby Percussion
More than a dozen different percussive instruments cover a wide range of styles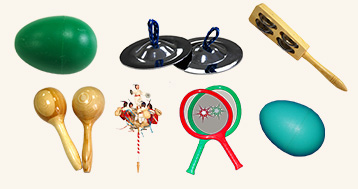 Melodicas
Melodicas, accordions and harmonicas

Blow Toys
Recorders, whistles, tiny trumpets and more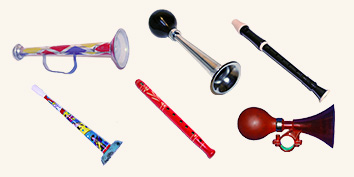 Ancient Automates
Animated plush animals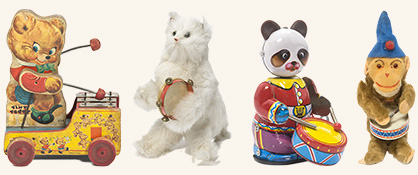 Kindergarten
Roly-poly toys, moo boxes, play centers and more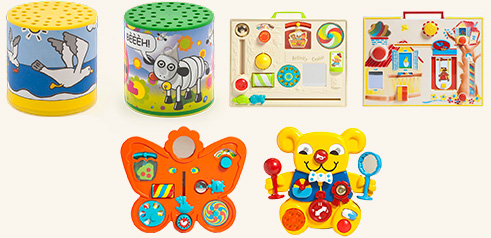 Musical Gadgets
Giggle sticks, puzzling boomwhackers and everything else that we couldn't easily categorize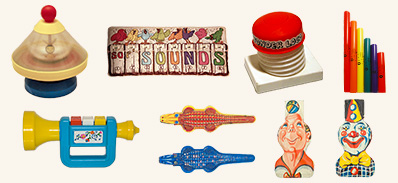 Electric Toys
Children's Toys
These toys are designed for kids, although most of the time it's us that end up playing with them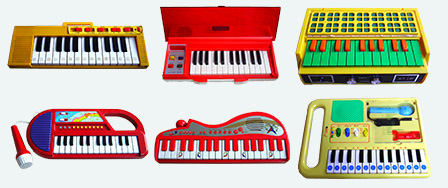 Developed Toys
A great selection of xylophones and metallophones, sanzas and clavi-harps

Drums & FX
Especially designed for drums and FX, whether they're pure sound FX machines or drum machines. That's the rhythm of the household

Mini Sampler
Seriously impressing for their days and intent, these keyboards came with a microphone and/or RCA sampling facility

Musical Toys
More toy than musical, most of the time with no keyboards, some of them hide very surprising features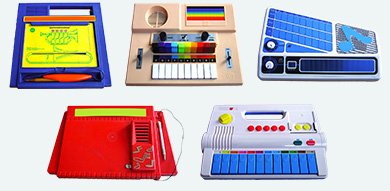 Organ Basic
Electric organs that have been scattered about in youngsters' bedrooms for the last 40 years

Silly
More than a dozen different percussive instruments cover a wide range of styles

Small
These keyboards were designed to be "child-finger-compliant", some toys from this category became iconic

Speech
Talkative toys, whether it's for learning spelling or just for fun making music

Style-o-Phone
One of the most revered musical toys ever designed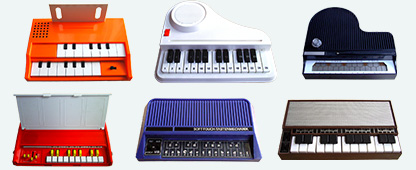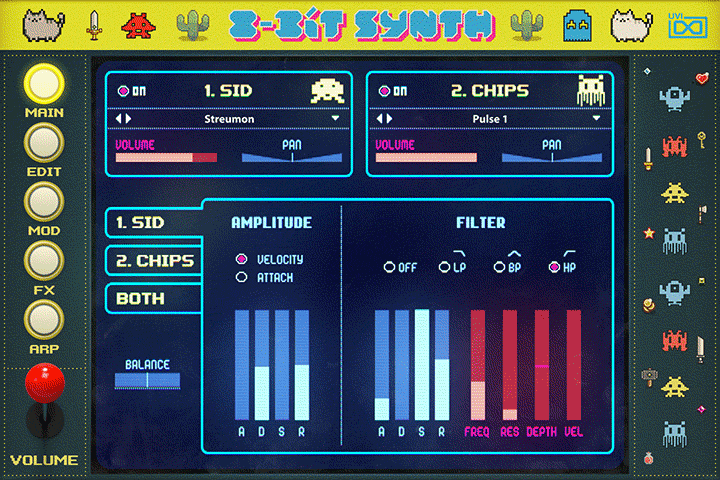 A deeply-sampled dual-layer chip synth with a huge selection of sounds from classics like the SID Station, Commodore 64, Game Boy, Mod Machine and more. We created a full-range of tones for everything from modern genres to classic video game favorites. Don't let the arcade game styling fool you – this is a capable and surprisingly sweet sounding instrument!
8-Bit Synth gives you 375 high-quality presets, full of ready-to-inspire sonic destinations or starting points for your own sound design. Complete with an extensive effect section, built-in modulation, and a brand new chip-style arpeggiator, 8-Bit Synth is a treat not to be missed!
SPECS
WHAT YOU GET
| | |
| --- | --- |
| Size: | 23.46 GB (FLAC lossless encoding, was 86.32 GB in WAV) |
| Content: | 384 Instruments, 1185 Presets, 34 Kits, 1499 Loops, 70,000+ Samples |
| Sample Resolution: | 44.1 kHz. Recording at 88.2 kHz |
| License: | 3 activations per license on any combination of machines or iLok dongles |
SYSTEM REQUIREMENTS
Runs in UVI Workstation version 3.0.5+, and Falcon version 1.6.6+
iLok account (free, dongle not required)
Internet connection for the license activation
Supported Operating Systems:
– Mac OS X 10.9 Mavericks to macOS 10.15 Catalina (64-bit)
– Windows 8 to Windows 10 (64-bit)
24 GB of disk space
Hard Drive: 7,200 rpm recommended or Solid State Drive (SSD)
4GB RAM (8 GB+ highly recommended for large UVI Soundbanks)
COMPATIBILITY
| | |
| --- | --- |
| Supported Formats: | Audio Unit, AAX, VST, Standalone |