OVERVIEW

Walker 2 is a comprehensive, flexible and easy to use sound design tool that delivers everything you need to create realistic or completely fantastical footsteps and movement sounds. Built on a massive and all-new sample library, Walker 2 delivers an epic collection of shoe and feet options, surfaces, and clothing materials, customizable sub-layers, user sample support, effects and more to help you dial-in the perfect sound for your production.
Deep, flexible, well organized, and supremely easy to use, Walker 2 is an indispensable tool for post facilities and sound designers.
WHAT'S NEW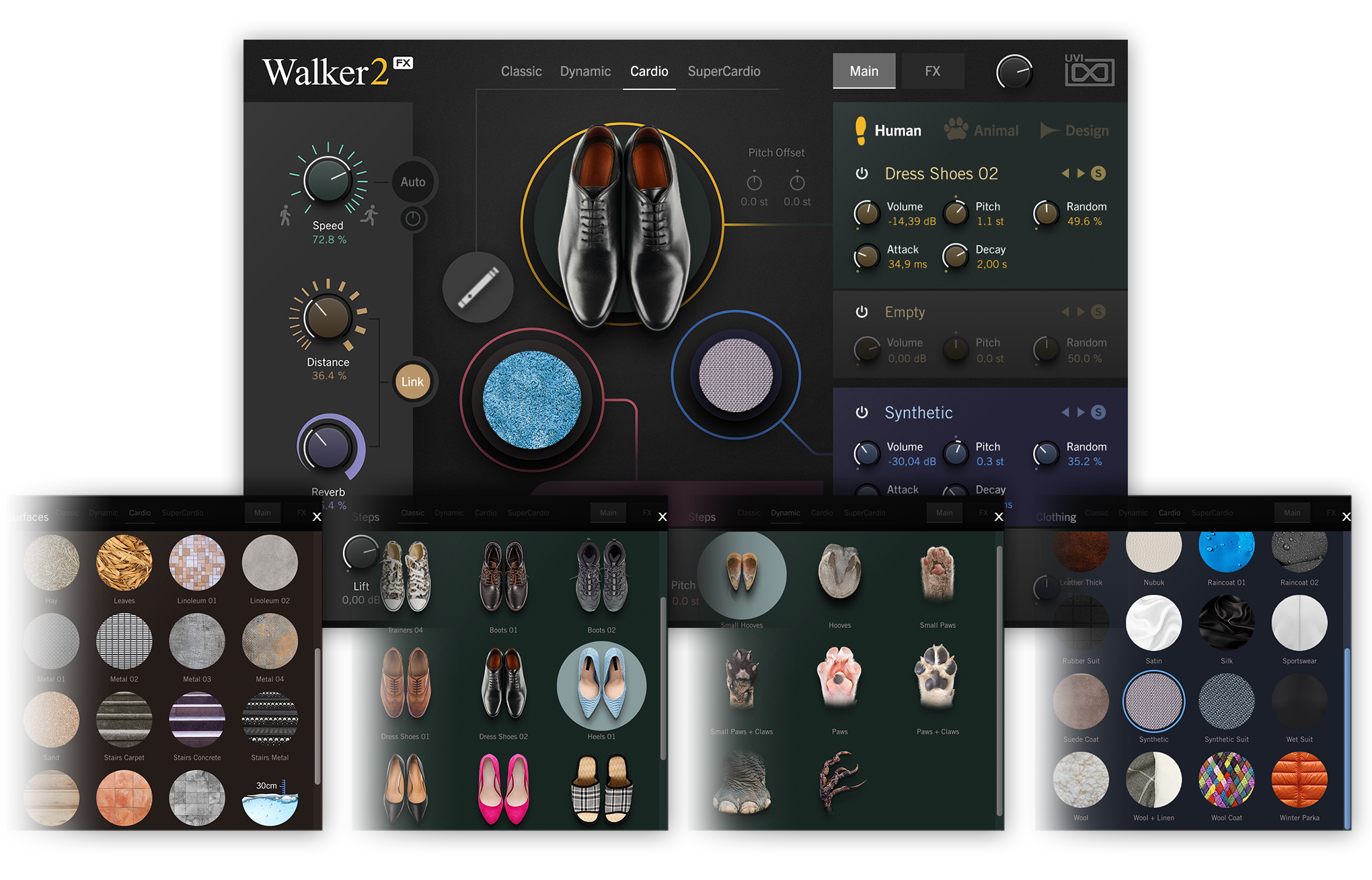 Walker 2 is a ground-up reimagining of our footstep foley designer, some of the many new features and improvements include:
All new engine
New recordings (45,000+ samples)
Completely redesigned interface
14 types of shoes
8 types of animal feet including paws, hooves, and talons
Designed steps, for creatures, robots, and more
32 surfaces including stairs
24 clothing options
Discrete sub-layers for steps, surface, and clothing
Reverb with 46 IRs
Limiter effect
User sample support (via Falcon)
New presets
and more!
SPECS
WHAT YOU GET
| | |
| --- | --- |
| Size: | 2.58 GB (FLAC lossless encoding, was 4.89 GB in WAV) |
| Content: | 45,295 Samples and 106 Presets |
| Sample Resolution: | 48 kHz. Recording at 96 kHz |
| License: | 3 activations per license on any combination of machines or iLok dongles |
SYSTEM REQUIREMENTS
Runs in UVI Workstation version 3.1.5+, and Falcon version 2.5.7+
iLok account (free, dongle not required)
Internet connection for the license activation
Supported Operating Systems:
– Mac OS X 10.14 to macOS 12 (64-bit)
– Windows 10 to Windows 11 (64-bit)
3 GB of disk space
Hard Drive: 7,200 rpm recommended or Solid State Drive (SSD)
4GB RAM (8 GB+ highly recommended for large UVI Soundbanks)
COMPATIBILITY
| | |
| --- | --- |
| Supported Formats: | Audio Unit, AAX, VST, VST3, Standalone |
| Tested and Certified in: | Digital Performer 8+, Pro Tools 11+, Logic Pro X+, Cubase 7+, Nuendo 6+, Ableton Live 8+, Studio One 2+, Garage Band 6+, Maschine 1+, Tracktion 4+, Vienna Ensemble Pro 5+, Reaper 4+, Sonar X3+, MainStage 3, MuLab 5.5+, FL Studio, Bitwig 1+, Reason 9.5+ |