Created by and for sound designers, Whoosh FX is an easy-to-master yet powerful tool for generating all manner of movement, wind and whoosh-type effects. Set duration, customize 3 discrete layers with a deep selection of noises and textural sounds with categories including air, electrical, fire metal, orchestral, water, wind and more, choose envelope presets or draw them in with your mouse, add movement, doppler effects, transform your sound with a morphing vowel filter, and add studio-grade effects including convolver, digital EQ, delay, IR reverb, limiter and more. Whoosh FX offers a deep feature set packed in a clear and intuitive interface, easily yielding everything from synchronized sound effects for motion graphics, television and films to rich, moving soundbeds for musical and environmental applications.
IN-DEPTH
Structure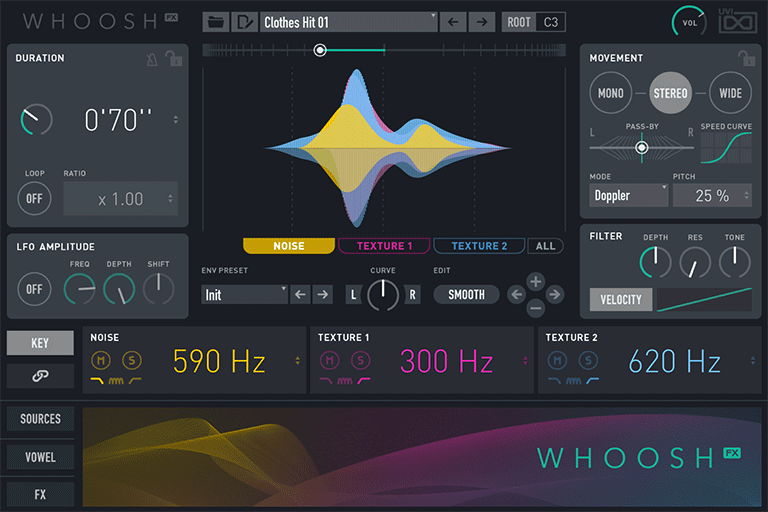 At the heart of Whoosh FX are 3 sound sources: Noise, Texture 1, and Texture 2. These 3 sources are fully-configurable, with discrete envelopes controlling amplitude and filter (seen in the center of the UI), multi-mode filters, stereo placement, tilt, pitch and level controls, helping you quickly create a huge variety of different sounds.
Sound Sources

The Noise layer contains 11 types of synthesized noise to choose from including Band, S+H, Violet, Blue, White, Pink, Brown, Lorenz, Rossler, Logistic and Sinus, meanwhile the Texture 1 and 2 layers add a wide selection of dedicated field recordings and synthesized sound sources created specifically for Whoosh FX. Sounds are organized by category and include Air, Distorted, Electricity, Fire, Fx, Material, Metal, Motor, Noise, Orchestral, Rock, Sparkle, Synth, Water and Wind, and can be independently pitched by +/- 24 semitones.
Each layer can have a unique filter mode (LP, Comb or HP) and cutoff frequency, and can be edited individually or all at once. Selecting the Sources tab at the bottom you'll find controls for the noise and texture types along with layer-specific parameters such as pan, tilt, pitch, and width. Texture 1 and 2 both include Randomize and Undo buttons allowing for chance inspiration and a quick way back in case you overstep.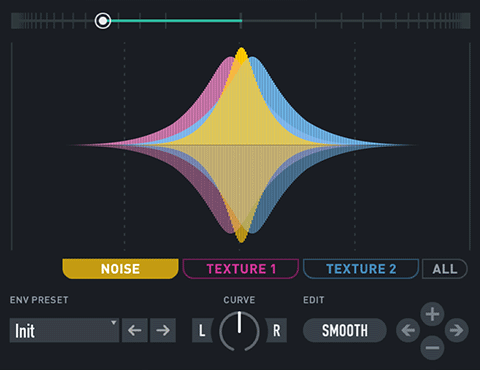 Envelope Editor
In the center of the UI are envelopes relating to each of the 3 layers, these can be set with presets or drawn with a mouse, and can be edited discretely or all-together and refined with Time and Amplitude Nudge, and a Smooth button to tame any unwanted rough bits. For example, press the All button under the central editor, draw an envelope shape, then go one-by-one through the layers adjusting timing and amplitude offsets while previewing your sound to quickly create a layered effect, or choose from a wide variety of included preset shapes ranging from basic to extreme.
Time and Motion Controls

Overall effect duration can be set explicitly in seconds or in tempo-synced musical divisions, up to 32 seconds or 16 bars, and looping can be enabled for rhythmic effects. 3 imaging modes provide options for Mono, Stereo and Wide, with Pass-By and Speed Curve affecting your sounds directional velocity. Set the overall Pitch modulation depth and choose from the standard Doppler-style modulation, or drive pitch with one of the 3 central envelope shapes. The Warp slider above the main editor allows you to globally stretch all envelopes left or right.

Vowel Filter
The Vowel tab allows you to route any of the 3 layers into a morphing vowel filter. Select the desired layers to process then choose the top and bottom vowel sounds, using the envelope editor to create simple or complex morphing transitions across the duration of your sound. Use the Copy Env buttons to copy an envelope shape down from the main editor and adjust the formant depth and Q.
Effects
Finally, the FX tab reveals a choice selection of effects including a convolver, 5-band EQ, delay, IR reverb and limiter, so you can put the finishing touches on your sound without the need for additional plugins.
A powerful and creative sound design tool, Whoosh FX was designed to be focused, intuitive and feature-rich, helping users produce professional-quality sounds quickly and reliably.
SPECS
WHAT YOU GET
| | |
| --- | --- |
| Size: | 1.45 GB (FLAC lossless encoding, was 2.04 GB in WAV) |
| Content: | 402 Presets, 545 Samples |
| Sample Resolution: | 48 kHz. Recording at 96 kHz |
| License: | 3 activations per license on any combination of machines or iLok dongles |
SYSTEM REQUIREMENTS
Runs in UVI Workstation version 3.0.5+, and Falcon version 1.6.6+
iLok account (free, dongle not required)
Internet connection for the license activation
Supported Operating Systems:
– Mac OS X 10.9 Mavericks to macOS 10.15 Catalina (64-bit)
– Windows 8 to Windows 10 (64-bit)
2 GB of disk space
Hard Drive: 7,200 rpm recommended or Solid State Drive (SSD)
4GB RAM (8 GB+ highly recommended for large UVI Soundbanks)
COMPATIBILITY
| | |
| --- | --- |
| Supported Formats: | Audio Unit, AAX, VST, Standalone |