Quadra is a powerful 4-part multi-instrument and sequence designer, ideal for the creation of dynamic, rhythmic, and evolving sequences based on metallic and resonant wood sounds. Quadra provides a curated instrument selection, deep factory library, focused and intuitive workflow, expressive performance controls, and cinematic sound quality.
Quadra is a versatile instrument, capable of a wide range of sounds and uses from standard fare instrumentation to evolving, complex, and adaptive progressions and harmonizations that can be morphed and performed in numerous ways to suit the needs of your production. With a masterful selection of hundreds of professionally designed presets, Quadra offers instant inspiration.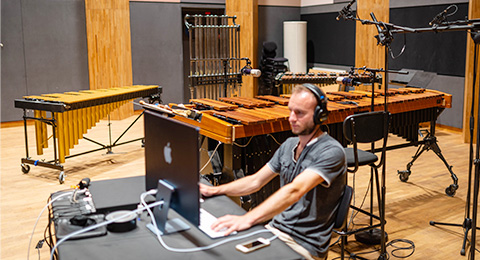 Curated Instrument Selection
Quadra provides 4 robust instrument layers that can be used together to create striking and evocative performances. Assign each from a selection of 251 multi-sampled sources, including Tubular Bells, Thai and Balinese Gongs, electric pianos and keyboards like the Rhodes, Celesta, Claviset, Dulcitone, Glockenspiel, Mini Celesta, Papageno Bells, Pianet and Sanza Keys, mallet instruments such as the Vibraphone, Marimba and Large Xylophone, musical toy instruments including Music Box, Toy Glockenspiel and Wood Xylophone, synthesizers including Modular, FM, and PCM-based, wood instruments like the Balafon, Resonant Tubes and Blocks, and metal instruments like the Congolese Sanza, Handpan, Mbira, Steel Drum, and more, all chosen to complement each other in timbre and playing style.
Powerful, Expressive Control
Quadra is a creative workspace where you're free to layer sounds to create complex and evolving tones and sequences, or assign them to discrete keyzones and perform them discretely. Play sounds directly or augment them in realtime with arpeggiators, phrase sequencers and effects to create rhythmic and melodic motifs. Morph between sounds with a mappable XY pad to create movement and narrative, and automate the overall intensity of your soundscape with global dynamics and transient emphasis controls.
SPECS
WHAT YOU GET
| | |
| --- | --- |
| Size: | 8.43 GB (FLAC lossless encoding, was 35.67 GB in WAV) |
| Content: | 335 presets, 251 layers, 53 042 samples |
| Sample Resolution: | 44.1 kHz. Recording at 88.2 kHz |
| License: | 3 activations per license on any combination of machines or iLok dongles |
SYSTEM REQUIREMENTS
Runs in UVI Workstation version 3.1.3+, and Falcon version 2.5.3+
iLok account (free, dongle not required)
Internet connection for the license activation
Supported Operating Systems:
– Mac OS X 10.9 Mavericks to macOS 11 Big Sur (64-bit)
– Windows 8 to Windows 10 (64-bit)
9 GB of disk space
Hard Drive: 7,200 rpm recommended or Solid State Drive (SSD)
4GB RAM (8 GB+ highly recommended for large UVI Soundbanks)
COMPATIBILITY
| | |
| --- | --- |
| Supported Formats: | Audio Unit, AAX, VST, Standalone |