OVERVIEW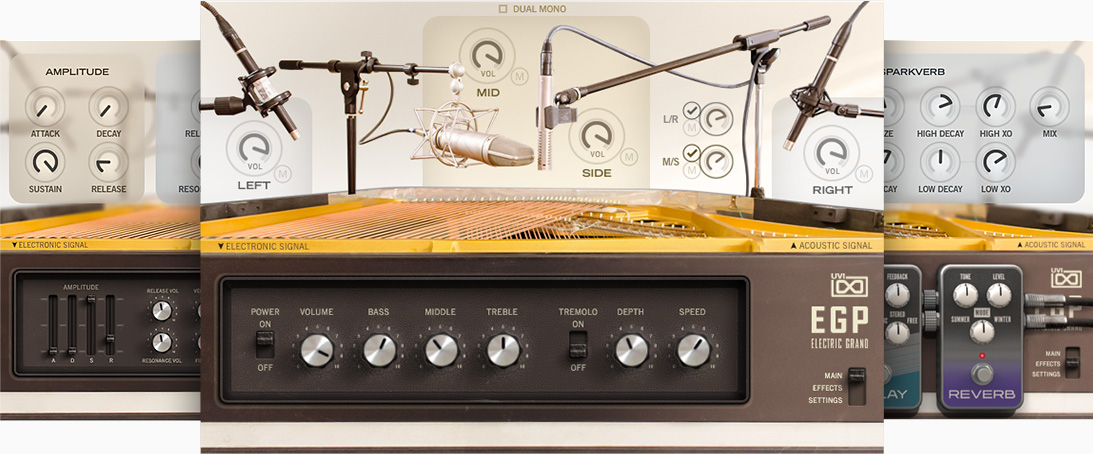 Easily the most detailed and comprehensive electric grand piano instrument ever produced, EGP boasts 5 channels of audio including electric, L/R and M/S signals, 10 preparations, independent EQ, effects and dynamics for the electric and acoustic signals and over 100 professionally designed presets. An expressive and deeply customizable instrument, EGP gives you pristine imaging and a sonic range well beyond any electric piano you've tried before.
APPROACH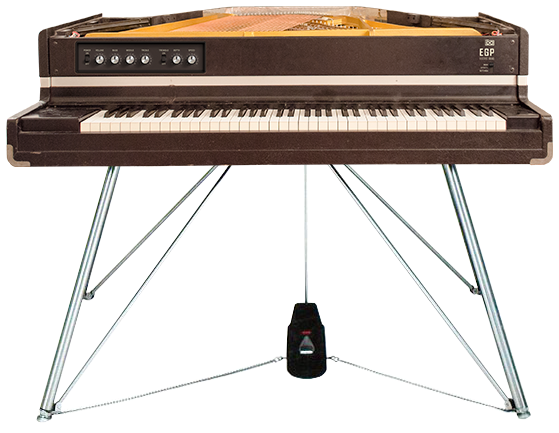 Origins
Our inspiration started with the Yamaha CP-70, the first and most successful portable electric grand piano. The CP-70 was developed for touring musicians in the 70's, making use of electric amplification with per-string piezo pickups similar to a guitar. This approach allowed for a much smaller, modular construction perfect for the touring musician. It was, in essence, a 300lb plug-and-play grand piano. The CP-70 was introduced in the mid 70's, seeing a positive reception and popularity for over a decade until it, along with its siblings the CP-60 and CP-80, were discontinued shortly after the advent of digital pianos. Most famously used by Peter Gabriel, the CP-70 was a favorite of many pop and prog rock icons including Stevie Wonder, Keith Emerson, Paul Jones of Led Zeppelin, Boston, Journey, Asia and Genesis.
Immaculate Detail
The aim of this project was to essentially deliver an entire hybrid piano studio. Great care was taken to capture the sound of the CP-70 in the most complete and detailed way possible, resulting in a core library of over 10,000 samples. 5 discrete channels were captured, including the electric output and instrument acoustics miked in L/R and M/S configurations. The raw electric signal of the CP-70 was captured with a Class A direct box with Vovox cable into a Prism converter for the utmost clarity and definition. For the acoustic section, a stereo pair of custom Bruel and Kjaer mics sit in a conventional L/R configuration while a Neumann U67 and Royer ribbon mic form the M/S signal.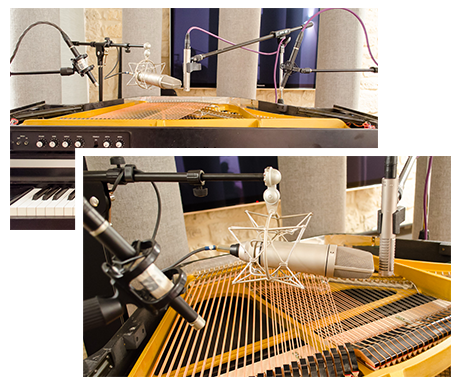 INSTRUMENT
10 unique preparations were recorded including classic, brush, bow, ebow, fingers, pick, stick and more. Each preparation was approached with the utmost attention to detail, capturing round robins, release samples, sympathetic resonance and pedal noise allowing for a truly expressive playing experience. Load the Pick preparation, turn on Wheel Strum and play a grand piano like a guitar, or try the Bow preparation with a bit of Sparkverb™—the possibilities are staggering. An exquisite tool for scoring, sound design and experimental music, EGP can achieve everything from expansive soundscapes to melodic percussion with ease.

For each of those preparations, EGP delivers 5 channels of audio: electric, L/R and M/S signals. Level control and mutes are available per mic and mic group. Go from acoustic mono to a full 5-channel mix, easily adjusting the width and balance to fit your mix perfectly. Independent effect chains and amplitude dynamics for both the acoustic and electric signals give you unmatched sound shaping control. Add a touch of reverb to the acoustic section, some overdrive, chorus and a longer attack on the electric signal, EQ both to taste.
The user interface was carefully designed to make editing these signals as simple as possible, with acoustic sources at the top of the UI and electric at the bottom. They can be fully controlled across 3 pages, Main, FX and Settings. EGP comes with over 100 expertly designed presets which lets you easily display its fantastic sounds and detail. Easily dial in your sound or lose hours exploring the possibilities.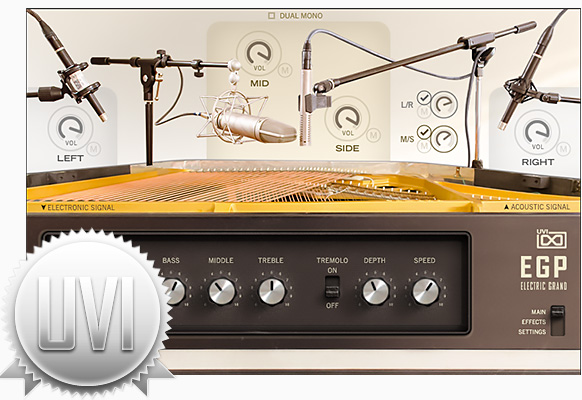 Incredible sound quality and an elegant UI are just the beginning. Under the hood of EGP you'll find UVI's sophisticated Engine XT™. With over 10 years of R+D behind it, Engine XT now sports an advanced, realtime compression system providing up to 7x faster load times and an average 70% reduction in file size. This translates to a dramatic improvement in workflow and delivers EGPs massive 20GB sample footprint in a mere 4.7GB package.
A creative tool capable of everything from classic piano sounds to shimmering ambiences, EGP redefines the electric grand. Whether you're a discerning performer, producer, composer or sound designer, EGP is a powerful tool for your sonic arsenal.
Features
10 prepared piano styles
Discrete and fully mixable electric, L/R and M/S signals
M/S signal switchable to dual mono
Independent effect chains for acoustic and electric signals
Independent ADSR amplitude control for acoustic and electric signals
Resonance polyphony and volume control
Pedal and Release volume control
Extended Range switch provides a full 88-note range
Wheel Strum
Intuitive and easy-to-use interface
100+ preset library
10,000+ sample library using lossless streaming
SPECS
WHAT YOU GET
| | |
| --- | --- |
| Size: | 4.7 GB (FLAC lossless encoding, was 16 GB in WAV) |
| Content: | 1 instrument, 104 presets, 10,000+ samples |
| Sample Resolution: | 44.1 kHz, recording at 96 kHz |
| License: | 3 activations per license on any combination of machines or iLok dongles |
SYSTEM REQUIREMENTS
Runs in UVI Workstation version 2.6.10+, and Falcon version 1.2.1+
iLok account (free, dongle not required)
Internet connection for the license activation
Supported Operating Systems:
– Mac OS X 10.9 Mavericks to macOS 10.15 Catalina (64-bit)
– Windows 8 to Windows 10 (64-bit)
5 GB of disk space
Hard Drive: 7,200 rpm recommended or Solid State Drive (SSD)
4GB RAM (8 GB+ highly recommended for large UVI Soundbanks)
COMPATIBILITY
| | |
| --- | --- |
| Supported Formats: | Audio Unit, AAX, VST, Standalone |