OVERVIEW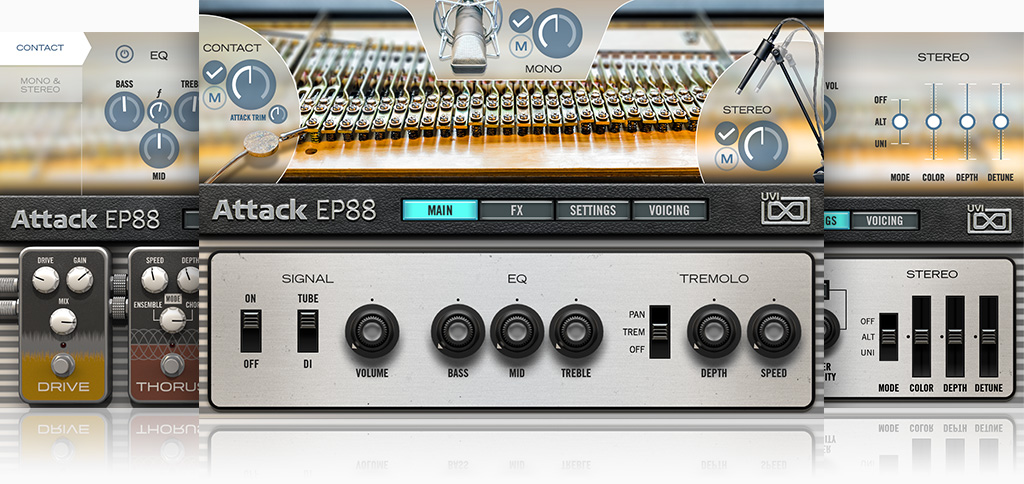 Attack EP88 is the world's first tacked electric piano library and possibly the most comprehensive electric piano library of any kind. Built on a foundation of over 47,000 samples, Attack EP88 is an incredibly rich sounding and deeply customizable instrument, providing numerous discrete signal paths including DI, tube, contact mic, mono mic and stereo pair, unique envelopes and effects for both the electric and acoustic signals, and discrete voicing and tuning controls for all 88 keys. The only library of its kind, Attack EP88 delivers an entirely new take on the much-loved electric piano sound, in the most user-friendly and comprehensive way we could imagine.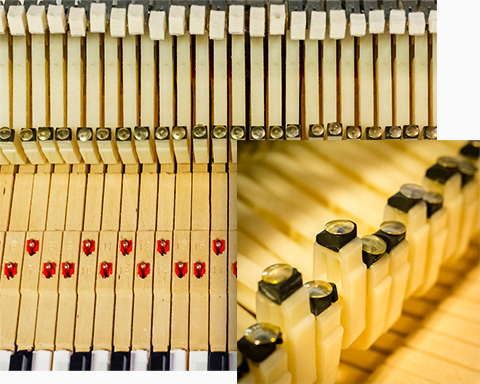 Tack Piano
A 'tack' piano is a form of prepared piano most commonly seen on acoustic uprights where, as in this example, each of the hammers has had a brass tack or metal device installed on or between the mallets and the resonators. The sound is most definitely still piano but the initial attack phase is accentuated, it's more present, with a resonant metallic brilliance.
As it turns out this preparation is quite exceptional on electric piano. The tonal character is almost bell-like in quality, giving a completely new perspective and life to the classic electric piano sound.
APPROACH
Origins
Attack EP88 begins with a perfectly restored 88-key Rhodes Mark I prepared with a brass tack on the striking surface of each hammer. The goal of the project was to essentially deliver an entire virtual studio built around this instrument, allowing users to customize and explore it when and how they want. Doing this properly requires a number of sound sources and quite extensive recordings of each. Throughout, the utmost attention to quality and detail was made for everything from equipment selection to final editing, from UI and preset design to assembly.

Immaculate Detail
For the acoustic signals we employed a stereo pair of Bruel and Kjaer mics, a Neumann U67 in the mono position and per-key recordings with a contact mic attached directly to the tine. For each note 8 velocities and up to 5 round-robins were recorded per-source, along with 5 round-robins for both the sustain and release samples. This was done 3 times for the electric sources, once for each of the 3 included voicings (where the tack position is shifted on the hammer, resulting in changes of color from deep to thin). Additional recordings were made to capture the pedal-up and pedal-down sounds, this was done for the mono, stereo, contact and DI signals with 7 round-robins for each. The result of this process was a working base of over 47,000 samples, a truly massive library that beautifully captured even the most subtle nuances of the piano.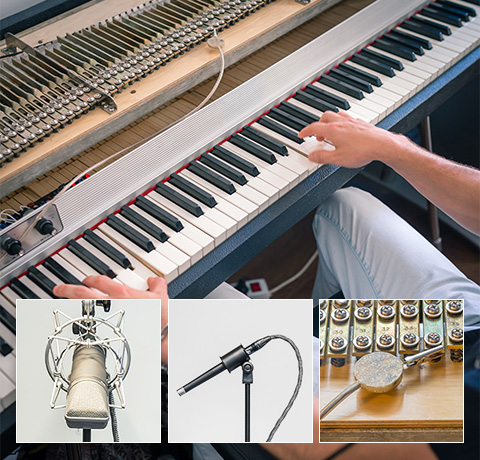 Unlike Any Other

Attack EP88 is an easy-to-use yet brilliantly deep instrument, one most people aren't likely to quickly exhaust. Providing everything from basic DI setups to rich and elaborate multi-channel configurations with custom envelopes and effects, Attack EP88 provides an extreme versatility, musical quality and immediacy that make it both a joy and inspiration to use.
Features
88-key Rhodes Mark 1 prepared with brass tacks
5 discrete and fully mixable signals (DI, tube, contact, mono and stereo pair)
Internal signal routed via 3 busses (contact, mono and stereo, and DI and tube)
Independent envelopes and effects per-bus (including Thorus, Dual Delay and Sparkverb)
8 velocity layers and up to 5 round-robins per-mic, per-note
Pedal-up, pedal-down and key noise recordings (7 round-robins each)
Contact mic recordings made per tine
Per-note voicing control (3 tack positions recorded, per-signal, per-note)
Per-note tuning control
Intuitive and easy-to-use interface
70 presets
47,000+ sample library, losslessly streamed for speed and efficiency
Flexible licensing supports 3 concurrent authorizations