Augmented Piano delivers a unique collection of 24 piano preparations created and recorded on a beautiful 1909 Pleyel grand piano. Ever wondered what a piano would sound like played with a bow, guitar pick or plucked with your fingers? What if you could layer those sounds together with differing attack and decay times? Now you can.
APPROACH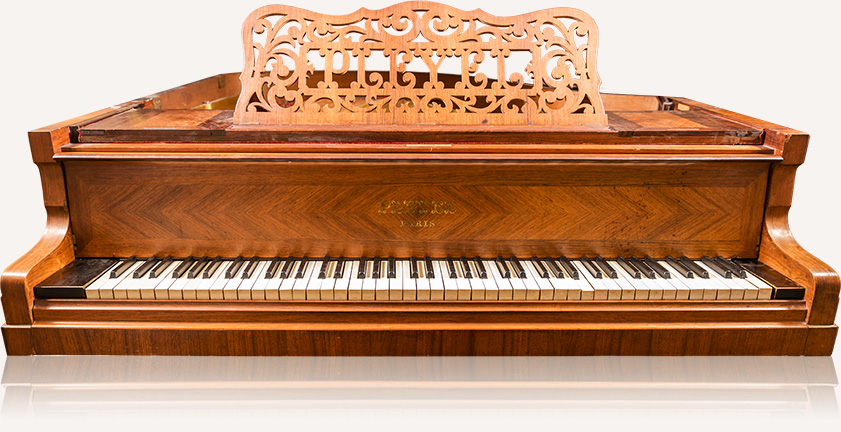 With Augmented Piano we wanted to go beyond traditional prepared piano sounds and offer something both new and inspiring, providing a way for musicians to easily craft and explore new tones and expressive possibilities with an instrument they already know and love.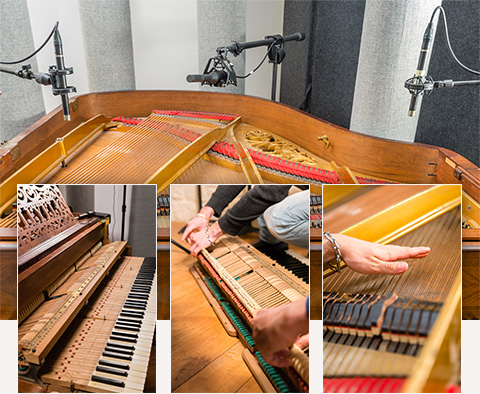 From sustained to percussive, conventional to uncharted, Augmented Piano is a deep-dive into the sound design rabbit hole with a 1909 Pleyel Grand. The result is an incredible selection of 24 preparations, immaculately captured with 3 microphone sets; a stereo Royer ribbon mic, a stereo-pair of BK condensers, and a mono PZM (pressure zone microphone).
Per source, each note was recorded with multiple velocities and round-robins for both the sustain and release sections of the sound. A staggering 23,889 samples were recorded and edited in all, giving Augmented Piano a truly detailed, expressive and natural sound.
INSTRUMENT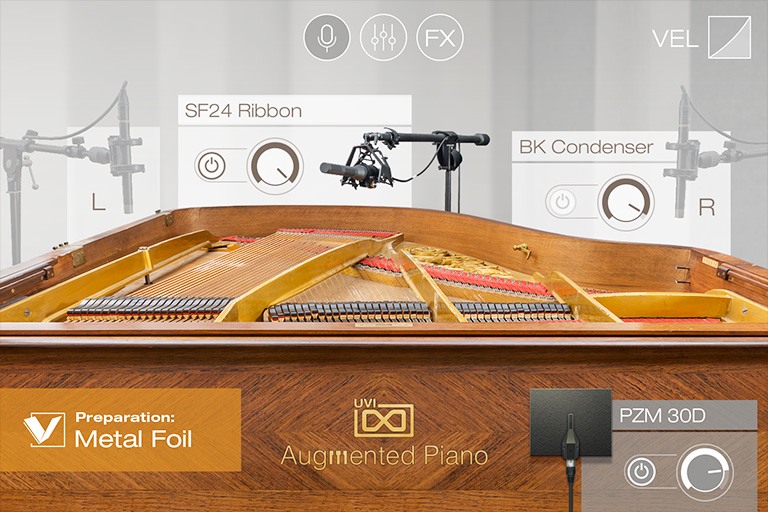 Augmented Piano includes 24 preparations:
Bow, Brush Slide, Brush Tap, Caps, Coin, eBow, Finger, Finger Muted, Harmonics, Key Noise, Metal Foil, Metal Sticks, Muted, Normal, Pick, Pick Muted, Rubber, Screws, Structural Effects, Tack, Tacked Muted, Una Corda, Wallet, Wood Stick and mixed preparations.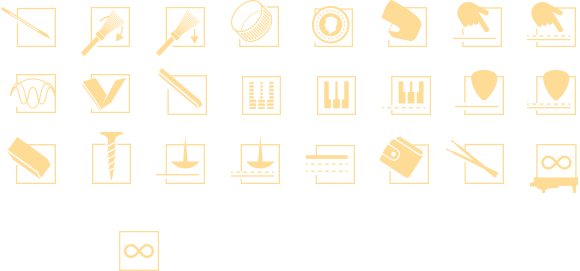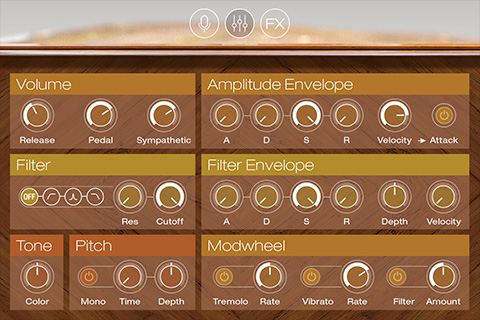 Preparations in Augmented Piano can be used in numerous ways. As dedicated instruments they each have a unique character, from the soft accents of the Brush Slide to the bell-like tones of the Tack, metallic rasps from the Screws to the infinite sustains of the eBow. Thanks to the easy-to-use multi system in UVI Workstation and Falcon, preparations can be loaded as layers to create rich hybrid sounds that would be impossible in the physical realm, for example you could use the attack of a Metal Stick with the sustained Bow sound, or combine the Brush Tap with the muted Finger pluck and add a slight chorus, delay and reverb for an ethereal sound.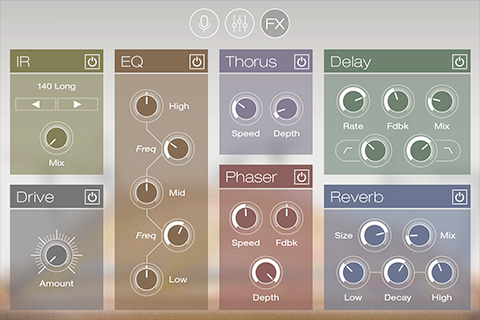 Each of the mic signals in Augmented Piano is presented discretely along with release volume, sympathetic resonance volume and pedal volume, providing absolute control over the instrument sound. The Edit page provides more creative controls typically found on synthesizers including an ADSR envelope, multi-mode filter, filter envelope, tone and portamento. Meanwhile the effects page provides all the essentials, including customizable IR, Drive, EQ, Thorus, Phaser, Delay and Sparkverb allowing for easy placement in the mix or the creation of more unconventional sounds.
A deep instrument, rewarding for both those looking for ready-to-play presets and the experimental-minded sonic explorers out there, Augmented Piano is a versatile and beautiful sounding instrument offering limitless sonic potential.
Features
1909 Pleyel Grand outfitted with 24 complete preparations
The only virtual tacked grand piano on the market
3 discrete, fully mixable signals (Stereo Ribbon, Condenser pair, PZM)
Control over release volume, sympathetic resonance volume and pedal volume
On-board ADSR envelope, multi-mode filter, filter envelope, tone and portamento
FX section including IR, Drive, EQ, Thorus, Phaser, Delay and Sparkverb
Easily create layered sounds and custom keyzones with multis in UVI Workstation or Falcon
Modern and Intuitive user interface
23,000+ sample library, losslessly streamed for speed and efficiency
Flexible licensing supports 3 concurrent authorizations
SPECS
WHAT YOU GET
| | |
| --- | --- |
| Size: | 14.08 GB (FLAC lossless encoding, was 61.92 GB in WAV) |
| Content: | 23,889 Samples, 164 Presets |
| Sample Resolution: | 44.1 kHz. Recording at 88.2 kHz |
| License: | 3 activations per license on any combination of machines or iLok dongles |
SYSTEM REQUIREMENTS
Runs in UVI Workstation version 2.6.15+, and Falcon version 1.4.1+
iLok account (free, dongle not required)
Internet connection for the license activation
Supported Operating Systems:
– Mac OS X 10.9 Mavericks to macOS 10.15 Catalina (64-bit)
– Windows 8 to Windows 10 (64-bit)
15 GB of disk space
Hard Drive: 7,200 rpm recommended or Solid State Drive (SSD)
4GB RAM (8 GB+ highly recommended for large UVI Soundbanks)
COMPATIBILITY
| | |
| --- | --- |
| Supported Formats: | Audio Unit, AAX, VST, Standalone |