Inspired by the world of psytrance and its manifold subgenres, Hypnotic Dive delivers 120 patches ranging from syncopated arpeggios and basslines to deep atmospheric pads, bread and butter leads and synths, to vibrant plucks, dizzying effects, and tuned sub kicks. Hypnotic Dive gives you everything you need to create captivating and energetic electronic music, from high-octane dance to meditative and transcendent ambient.
Hypnotic Dive leverages the powerful oscillators and modulation system of Falcon to create dynamic, powerful and evolving sounds across a range of timbres, with a high degree of customization and playability. The sounds of Hypnotic Dive are elegantly crafted, instantly inspiring, and suitable for producers and musicians of any background.
Each of the instruments in Hypnotic Dive is designed to be expressive and playable, providing helpful controls and macros allowing you to sculpt your sound and create dynamic, expressive performances. As with all Falcon expansions, you have the ability to dig beneath the surface into each sounds patch structure, to manipulate and reshape it in any way you see fit.
MADE FOR FALCON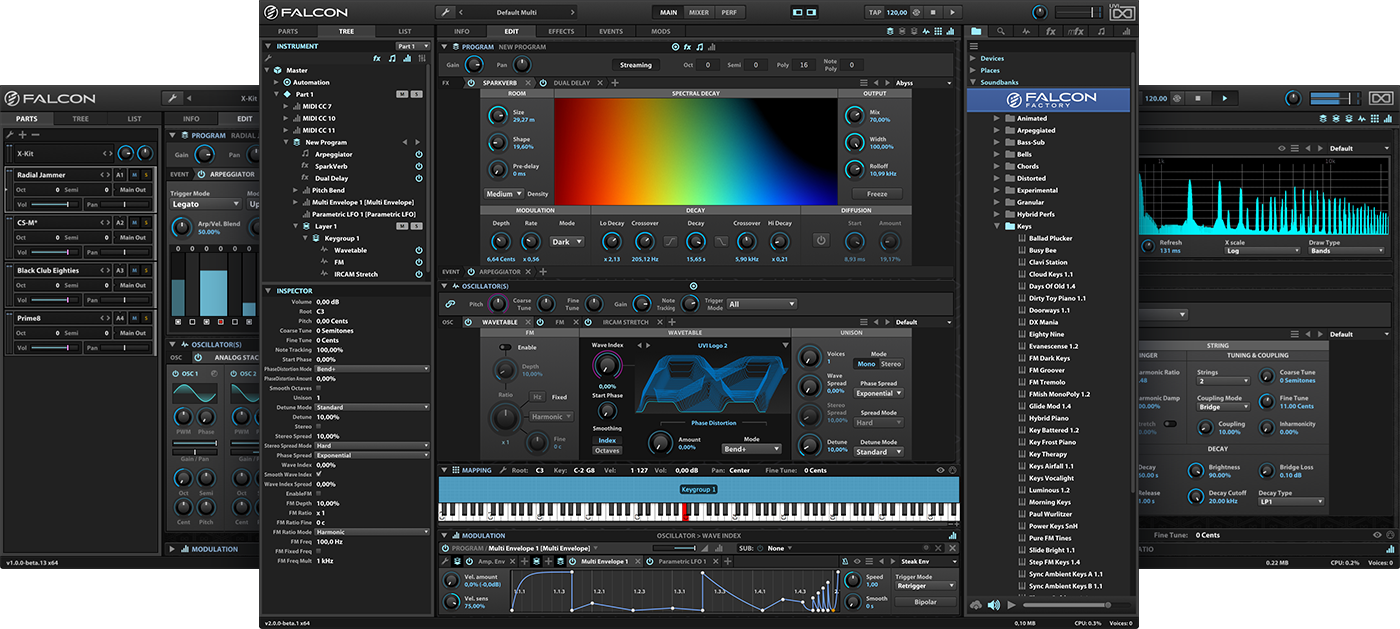 The Hypnotic Dive expansion leverages the advanced synthesis capabilities and software architecture of Falcon, which sports 16 oscillators, over 90 effects and a fast and intuitive interface that adeptly handles both basic tasks and deep instrument design. All presets have been programmed with macros which provide the user with easy access to the key parameters of each patch. These may be controlled via MIDI, OSC, host automation and Lua scripting, allowing for easy customization and expressive performance capabilities.
TAKE YOUR EXPERIENCE TO THE NEXT LEVEL WITH THIS EXPERTLY-CRAFTED FALCON EXPANSION PACK.
(Falcon license required. Not compatible with UVI Workstation.)
SPECS
WHAT YOU GET
| | |
| --- | --- |
| Size: | 214 Mo (FLAC lossless encoding, was 247 Mo in WAV) |
| Content: | 120 Presets, 57 Samples |
| License: | 3 activations per license on any combination of machines or iLok dongles |
SYSTEM REQUIREMENTS
Runs in Falcon version 2.1.4+
iLok account (free, dongle not required)
Internet connection for the license activation
Supported Operating Systems:
– Mac OS X 10.9 Mavericks to macOS 10.15 Catalina (64-bit)
– Windows 8 to Windows 10 (64-bit)
Hard Drive: 7,200 rpm recommended or Solid State Drive (SSD)
4GB RAM
FALCON COMPATIBILITY
| | |
| --- | --- |
| Supported Formats: | Audio Unit, AAX, VST, Standalone |
| Tested and Certified in: | Digital Performer 8+, Pro Tools 11+, Logic Pro X+, Cubase 7+, Nuendo 6+, Ableton Live 8+, Studio One 2+, Garage Band 6+, Maschine 1+, Tracktion 4+, Vienna Ensemble Pro 5+, Reaper 4+, Sonar X3+, MainStage 3, MuLab 5.5+, FL Studio, Bitwig 1+, Reason 9.5+ |