OVERVIEW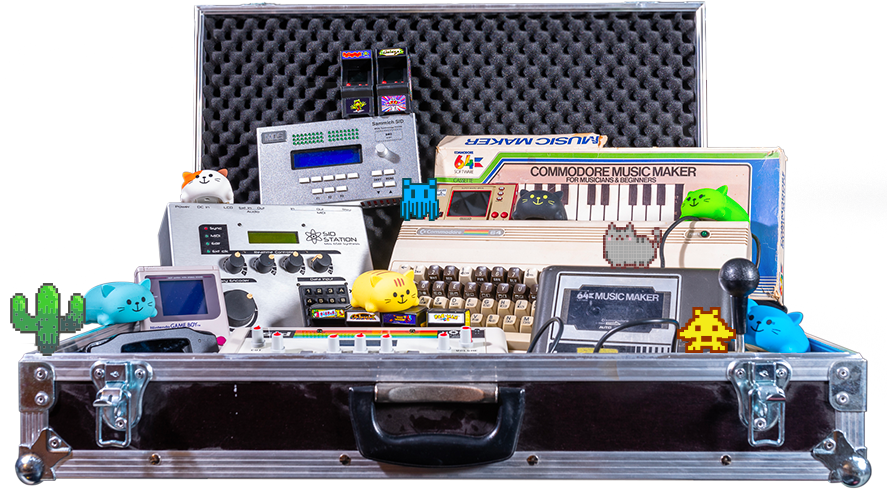 Inspired by some of our favorite vintage computers and gaming systems, 8-Bit Synth delivers a massive collection of authentic sounds created with the hardware. Dial up custom patches created with the Commodore 64, Game Boy, SID Station, Mod Machine and more, and create brand new sonic adventures with the genuine sounds of these classic machines.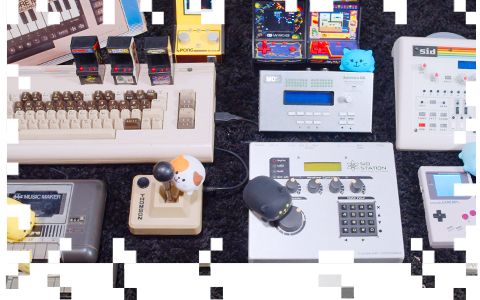 A fantastic instrument for crafting chip tunes and beyond, 8-Bit Synth digs deep into the capabilities of the hardware and delivers a surprisingly sweet range of sounds covering everything from classic video game favorites to modern genre-style patches. Don't let the arcade-inspired exterior fool you, while definitely packed with fun 8-Bit Synth is a serious and versatile instrument covering a broad sonic palette.
INSTRUMENT
Starting with a deep sampling of retro computers, game systems and vintage-inspired instruments, 8-Bit Synth gives you 375 high-quality patches created by our sound design team, arranged into categories including; Bass, Brass, Chip Mod, Chords, Composite, Drums, FX, Keys & Bells, Leads, Pads, Plucks, Polysynth, Sweeps, and Waveforms, each loaded with ready-to-inspire sonic destinations that can work equally well as starting points for you to tweak and build upon.
Internally 8-Bit Synth is made up of two layers, with layer 1 presenting sounds from the SID, and layer 2 loaded with sounds from devices like the GameBoy, Mode Machine, Commodore 64, and more, allowing you to quickly and easily explore new combinations and create your very own hybrid sounds.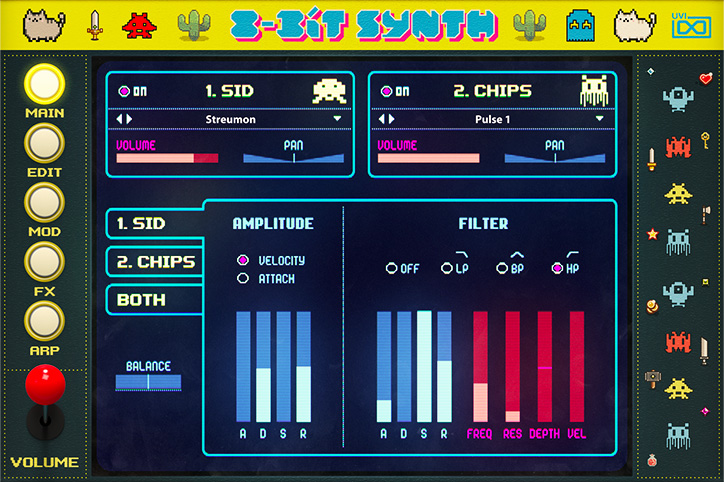 Control over each layer is provided via discrete ADSR amplitude envelopes, multimode filters with envelopes, pitch, portamento, and stereo controls, including unison. You even have layer-specific control over modwheel assignments on your MIDI keyboard, allowing you to blend the two layers surgically and perform them in unique and interesting ways.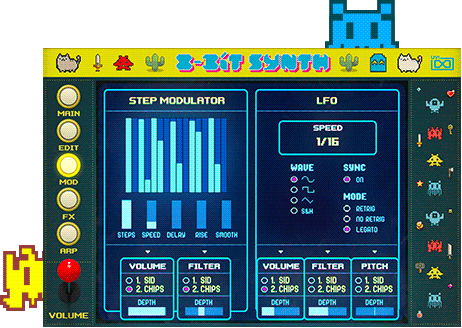 Each layer in 8-Bit Synth can be animated with discrete arpeggiators, and on the Mod page with a 16-step Step Modulator and an LFO. Finally, a packed FX page delivers studio-grade 3-band EQ, Overdrive, Thorus, Phasor, Ensemble, Delay, and Sparkverb, giving you everything you need to add a finishing touch or radical transformation.
Designed to be a source of fun and inspiration, 8-Bit Synth delivers a huge range of authentic retro chip sounds not to be missed.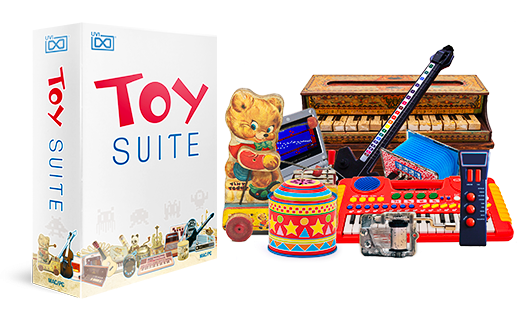 Also included in Toy Suite
An eclectic collection of uniquely inspiring timbres, Toy Suite delivers an epic 370 acoustic and electric musical toys. Explore petit pianos, guitars, organs, drums, percussions, whistles, metallophones, bells, shakers, music boxes, drum machines, tiny toy synthesizers, learning toys and more! An incredible library, unmatched in scale, quality and character.
SPECS
WHAT YOU GET
| | |
| --- | --- |
| Size: | 12.8 GB (FLAC lossless encoding, was 35.01 GB in WAV) |
| Content: | 31,402 Samples, 375 Presets, 430 Layers (187 SidMachines and 243 SidStation) |
| Sample Resolution: | 44.1 kHz. Recording at 88.2 kHz |
| License: | 3 activations per license on any combination of machines or iLok dongles |
SYSTEM REQUIREMENTS
Runs in UVI Workstation version 3.0.16+, and Falcon version 2.1.1+
iLok account (free, dongle not required)
Internet connection for the license activation
Supported Operating Systems:
– Mac OS X 10.9 Mavericks to macOS 10.15 Catalina (64-bit)
– Windows 8 to Windows 10 (64-bit)
13 GB of disk space
Hard Drive: 7,200 rpm recommended or Solid State Drive (SSD)
4GB RAM (8 GB+ highly recommended for large UVI Soundbanks)
COMPATIBILITY
| | |
| --- | --- |
| Supported Formats: | Audio Unit, AAX, VST, Standalone |