Massive collection of vintage and modern synth sounds, expertly programmed
3,500+ presets made from 132 hardware synths
The pure sound of hardware with software convenience and a modern interface
An incredible collection of hardware synthesizer sounds, expertly programmed, individually sculpted with outboard processors, multisampled and mastered to perfection. Synth Anthology 3 delivers the pure and powerful sounds of 132 hardware synthesizers, gently processed to taste with the best hardware processors on the market. You'll find everything from classic analogs like the Oberheim SEM and ARP 2600 to digital powerhouses like the Synclavier and FS1R, to modern classics like the OB-6, Prophet 6 and Minilogue, all expertly programmed and sampled, delivering the authentic and unmistakable sound of hardware.
WHAT'S NEW IN VERSION 3
-55 new hardware synths featuring classics and rarities
Includes Arp 2600, Behringer DeepMind 12, Casio HZ-600 and VZ1, Cavagnolo Exagone, Clavia NordLead 3, Crumar Spirit, Davoli Davolisint, Dotcom Modular, EML ElectroComp 101, SynKey and Synthi AKS, JEN SX1000, Kawai Synthesizer-100F, Korg PS3100, MS-50, 01RW, M3, Prologue, Polysix, 800DV and X3R, M-Liberation, M-One, M-Subsequent 37, M-Modular 3p and M-Sonic Six, Novation Peak, Oberheim Matrix-12 and SEM, Powertran Transcendent 2000, PPG 1020 and Modular, RLD D-110, RLD Fantom-G6, RLD J-6, RLD SH-5, RLD JD-990, RLD System-100 and RLD System-700, RSF BlackBox and Modular, Sequential Circuits Six-trak, Studiologic Sledge, Teenage Engineering OP-1, OP-Z, PO-14 and PO-16, Vermona Synthesizer, Waldorf Pulse 2, Wave and Quantum, Yamaha SY-2 and V50, and Yusynth.
-542 Waveforms created from 50+ hardware
-Updated UI
-Updated FX section with EQ
-Updated arpeggiator section with Chord and Phrase modes
-1,000+ all new factory presets
IN-DEPTH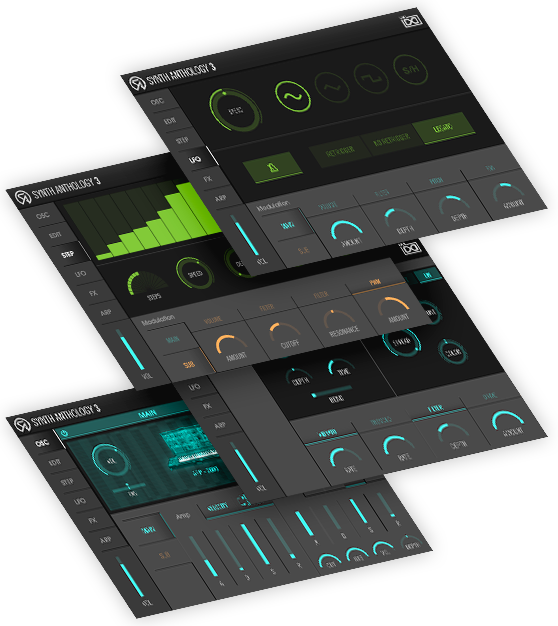 Emulations Need Not Apply
No matter how many variables you try to emulate in software there's still something unmistakable about the sound of a real hardware synth, from subtle differences between analog voice circuits and drift, to the varied ways different filters bite into your sound; there's a distinct character and energy. Synth Anthology 3 delivers the authentic and uncompromising hardware sound with all the conveniences of a modern software instrument.
So Much Of A Good Thing
There's no such thing as "too much" when it comes to hardware synths. They all have their own unique creative visions, innovations, sonic character and uses. Whatever you're looking for, from analog to digital, vintage classic to future classic, you'll likely find it here. With Synth Anthology 3 you get access to an unprecedented collection of hardware synthesizers, every major manufacturer, every type of synthesis, every era, 132 synthesizers in all. Yamaha, Oberheim, Sequential, PPG, Korg, Casio, Crumar, ARP, Waldorf, Vermona, NED, Access, Teenage Engineering, Novation, EMS, Kawai and more. Load up unique multisampled patches to use in your own sound design or tweak and layer them to make your own.
MACHINES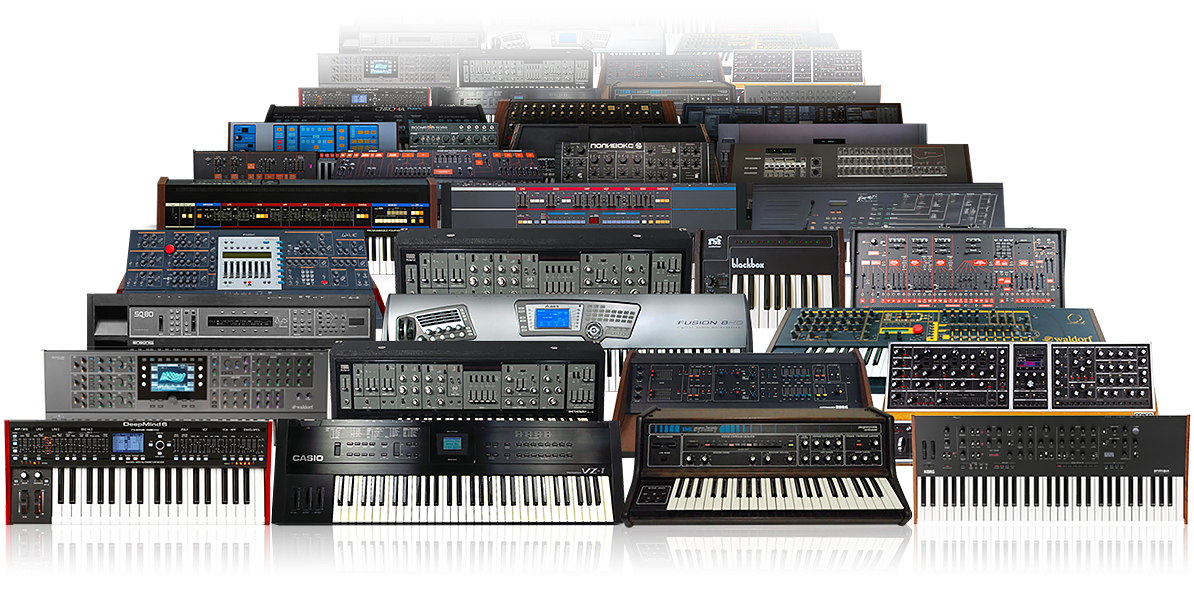 Access Virus C • Akai AX80 • Alesis Andromeda • Alesis Fusion • ARP 2600 • ARP Chroma Polaris • ARP Odyssey • ARP Quadra • Casio CZ-1 • Casio VZ-1 • Casio HZ-600 • Casio VZ1 • Cavagnolo Exagone • Clavia NordLead • Clavia NordLead 3 • Crumar Spirit • Dave Smith Prophet 6 • Davoli Davolisint • Dotcom Modular • Elka EK44 • Elka Synthex • EML ElectroComp 101 • EML SynKey • EML Synthi AKS • Emu Emax • E-MU Emulator 2 • Ensoniq ESQ-M • Ensoniq Fizmo • Ensoniq SQ80 • Ensoniq VFX • Fairlight CMI IIx • Formanta Polivoks • JEN SX1000 • Kawai K3 • Kawai K4R • Kawai K5000 • Kawai Synthesizer-100F • Korg 800DV • Korg DS8 • Korg DSS1 • Korg DW8000 • Korg M3 • Korg Minilogue • Korg MS20 • Korg MS-50 • Korg M1 • Korg Polysix • Korg Prologue • Korg PS3100 • Korg PS-3200 • Korg 01RW • Korg Triton • Korg Wavestation • Korg X3R • Mellotron M400 • M-Liberation • M-Memory • M-Mini • M-Modular 3p • M-One • M-Poly • M-Sonic Six • M-Source • M-Subsequent 37 • M-37 • NED Synclavier 2 • Novation Basstation 2 • Novation Peak • Novation Nova • Novation Ultranova • Oberheim Matrix 6 • Oberheim Matrix-12 • Oberheim OB6 • Oberheim OB-X • Oberheim SEM • Oberheim Xpander • OSC OSCar • Powertran Transcendent 2000 • PPG 1020 • PPG Modular • PPG Wave 2.3 • RLD D-110 • RLD D-Fifty • RLD Fantom-G6 • RLD JD800 • RLD J-6 • RLD J 60 • RLD JD-990 • RLD J 106 • RLD Jup 4 • RLD Jup 8 • RLD JX8P • RLD SH-5 • RLD System-100 • RLD System-700 • RLD 3o3 • RLD VP330 • RSF BlackBox • RSF Kobol • RSF Modular • SCI Prophet 5 • SCI Prophet VS • Seiko DS301 • Siel DK80 • Sequential Circuits Six-trak • Studio Electronics ATC • Studio Electronics Boomstar 5089 • Studiologic Sledge • Teenage Engineering OP-1 • Teenage Engineering OP-Z • Teenage Engineering PO-14 • Teenage Engineering PO-16 • Vermona Synthesizer • Vermona Tiracon 6V • Waldorf MicrowaveXT • Waldorf Pulse • Waldorf Pulse 2 • Waldorf Q • Waldorf Wave • Waldorf Quantum • Yamaha AN1X • Yamaha CS-80 • Yamaha CS20m • Yamaha DX7 • Yamaha DX100 • Yamaha FS1R • Yamaha SY-2 • Yamaha SY77 • Yamaha SY22 • Yamaha V50 • Yusynth
SPECS
WHAT YOU GET
| | |
| --- | --- |
| Size: | 14.47 GB (FLAC lossless encoding, was 29.84 GB in WAV) |
| Content: | 3,554 presets (made from 3,435 patches designed on 132 hardware synths), 30,331 samples |
| Sample Resolution: | 44.1 kHz. Recording at 88.2 kHz |
| License: | 3 activations per license on any combination of machines or iLok dongles |
SYSTEM REQUIREMENTS
Runs in UVI Workstation version 3.0.14+, and Falcon version 2.1.0+
iLok account (free, dongle not required)
Internet connection for the license activation
Supported Operating Systems:
– Mac OS X 10.9 Mavericks to macOS 10.15 Catalina (64-bit)
– Windows 8 to Windows 10 (64-bit)
15 GB of disk space
Hard Drive: 7,200 rpm recommended or Solid State Drive (SSD)
4GB RAM (8 GB+ highly recommended for large UVI Soundbanks)
COMPATIBILITY
| | |
| --- | --- |
| Supported Formats: | Audio Unit, AAX, VST, Standalone |