OVERVIEW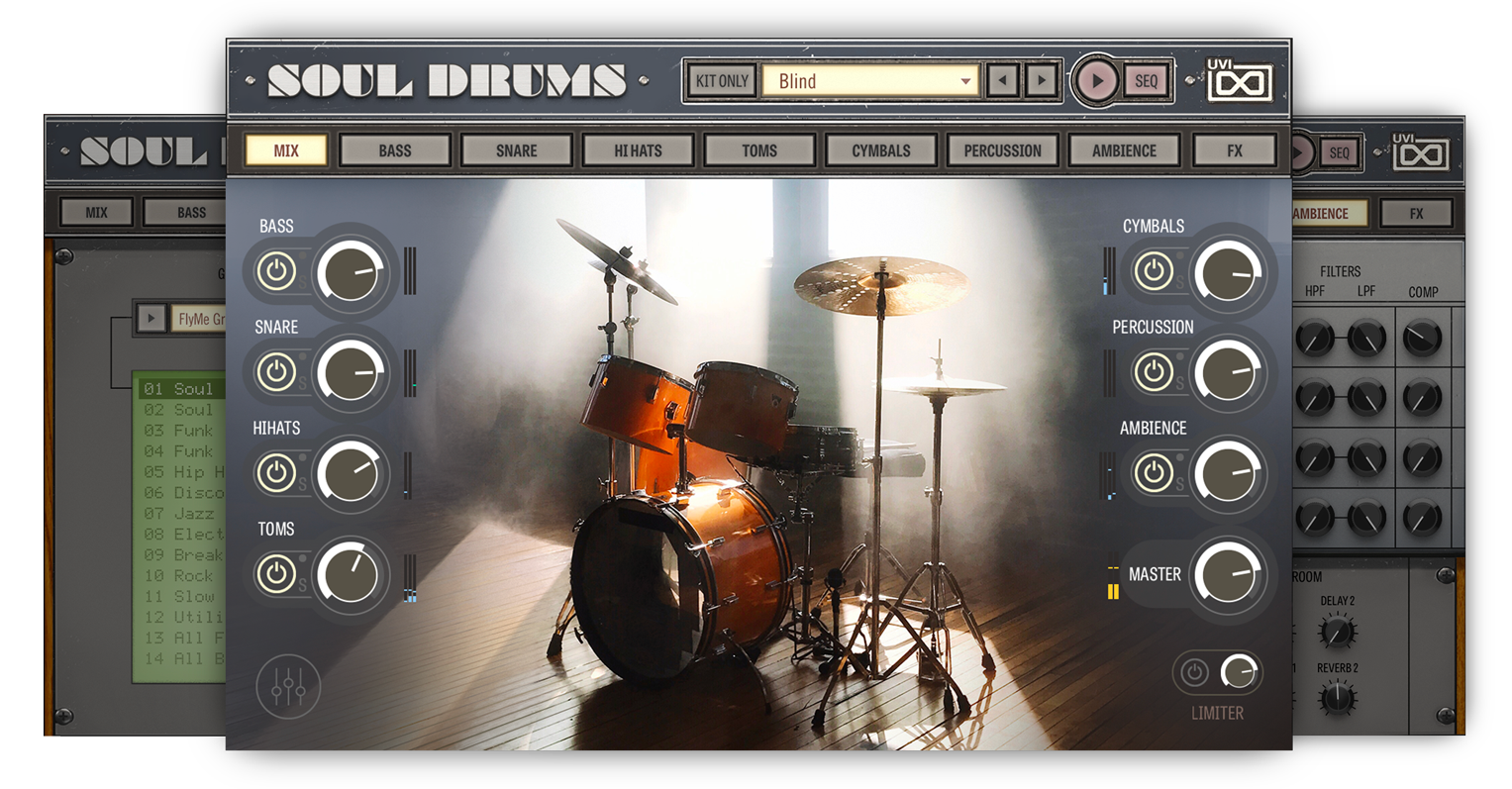 Meet Your New Drummer
Soul Drums was designed to give you an immediate and inspiring drum partner, the perfect drum session anytime you need it, with advanced controls and a vintage soul, able to adapt to the changing needs of modern production.
Modern Sound, Vintage Soul
An antithesis to the clean and clinical, Soul Drums echoes the greats of Motown with an old-meets-new foray, fusing the best of vintage and modern hardware and techniques with a forward-thinking design to create a drum instrument larger than the sum of its parts and unlike any other.
Ready To Play
Meticulously hand-crafted kit presets let you instantly change your sound from dry to fully-produced, and tailored to genre. Meanwhile over 1000 of built-in patterns get you going instantly, with everything from '60s/'70s grooves and breakbeats to hip-hop, funk, jazz and much more.
Deeply Editable
Soul Drums sounds amazing right out of the box, but for those that want full control it goes deep, offering extensive per-drum controls, 14 mixable mics, a fully-customizable bleed matrix, per-element send effects, a bus effects rack, full multi-out, and integrated mapping presets for most electronic drums.
INSTRUMENT
A Pedigree of Soul
Starting with a hand-picked selection of drums and microphones in Studio C at Criteria Recording Studios (formerly The Hit Factory) in Miami, the recording studio of seminal greats like James Brown, Michael Jackson, Bob Marley, Aretha Franklin and many more, Soul Drums was created with heritage at the forefront. We wanted an instrument that would embody the golden age of soul and allow a new generation to create within it.
Dynamic Possibilities
In order to make Soul Drums as versatile as possible multiple drum models were sampled. The bass drums were recorded using both felt and wood beaters, and all others recorded separately using both sticks and brushes. In addition to your choice of drum models and exciters, multiple play modes are available, with up to 9 velocity layers, and up to 6 round robins for a consistently natural and fluid sound.
Intuitive Interface
Soul Drums comes arranged across 11 pages, with a global Mix page, editors for Bass, Snare, Hi Hats, Toms, Cymbals, Percussion and Ambience, along with FX, Preferences, and the Sequencer. Edit screens provide deep per-instrument control, including per-layer volume, pan, velocity, amplitude envelopes, high and low-pass filters, and effect sends including a tape delay emulation and IR-based reverb.
A Modern Twist
For those in need of a distinctly modern edge, a digital dub layer is available on the Bass, Snare, and Hi Hats instruments, giving you 150 add-on samples per element that can be substituted or blended in to taste, and further tweaked via their own editors, allowing you to create totally unique results.

Enter the Matrix
At the bottom of each edit page is the secret weapon for huge drum sounds, a comprehensive mic bleed matrix, allowing you to manually adjust the mic bleed from each signal source to all other mics, while a global mic bleed level lets you manage the overall effect.

Hand-Crafted Kits
Soul Drums provides instant inspiration with hundreds of hand-crafted kits and sequences available to explore. Browse the kits and sequences together or discretely, and if you want to further develop or customize the patterns they can be easily drag-n-dropped to your DAW as MIDI.
Studio Integration
In addition to the built-in pattern player, Soul Drums can be easily driven via MIDI from your favorite sequencer or DAW. Soul Drums also has an integrated MIDI mapping matrix with presets for most popular electronic drum systems allowing you to play it live like the real thing.
A deeply editable modern drum instrument with vintage roots and exceptional versatility, Soul Drums is a powerful, creative, and inspirational rhythm machine.
SPECS
WHAT YOU GET
| | |
| --- | --- |
| Size: | 12.66 GB (FLAC lossless encoding, was 41.25 GB in WAV) |
| Content: | 153,024 samples, 1,281 patterns, 341 presets |
| Sample Resolution: | 44.1 kHz. Recording at 88.2 kHz |
| License: | 3 activations per license on any combination of machines or iLok dongles |
SYSTEM REQUIREMENTS
Runs in UVI Workstation version 3.1.4+, and Falcon version 2.5.5+
iLok account (free, dongle not required)
Internet connection for the license activation
Supported Operating Systems:
– Mac OS X 10.9 Mavericks to macOS 11 Big Sur (64-bit)
– Windows 8 to Windows 10 (64-bit)
13 GB of disk space
Hard Drive: 7,200 rpm recommended or Solid State Drive (SSD)
4GB RAM (8 GB+ highly recommended for large UVI Soundbanks)
COMPATIBILITY
| | |
| --- | --- |
| Supported Formats: | Audio Unit, AAX, VST, Standalone |
| Tested and Certified in: | Digital Performer 8+, Pro Tools 11+, Logic Pro X+, Cubase 7+, Nuendo 6+, Ableton Live 8+, Studio One 2+, Garage Band 6+, Maschine 1+, Tracktion 4+, Vienna Ensemble Pro 5+, Reaper 4+, Sonar X3+, MainStage 3, MuLab 5.5+, FL Studio, Bitwig 1+, Reason 9.5+ |